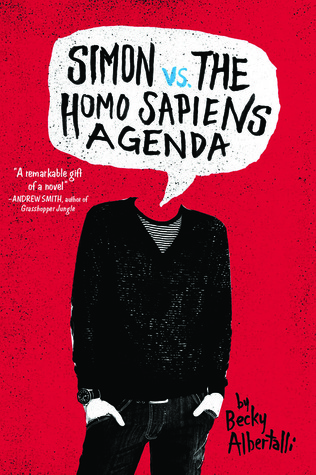 Title:
Simon vs. The Homo Sapiens Agenda
Series: N/A
Publication Date: April 7, 2015


Sixteen-year-old and not-so-openly gay Simon Spier prefers to save his drama for the school musical. But when an email falls into the wrong hands, his secret is at risk of being thrust into the spotlight. Now Simon is actually being blackmailed: if he doesn't play wingman for class clown Martin, his sexual identity will become everyone's business. Worse, the privacy of Blue, the pen name of the boy he's been emailing, will be compromised.

With some messy dynamics emerging in his once tight-knit group of friends, and his email correspondence with Blue growing more flirtatious every day, Simon's junior year has suddenly gotten all kinds of complicated. Now, change-averse Simon has to find a way to step out of his comfort zone before he's pushed out—without alienating his friends, compromising himself, or fumbling a shot at happiness with the most confusing, adorable guy he's never met.
***



A copy was provided through Edelweiss and Balzer + Bray for review consideration


This was a lovely, cute, heartwarming and yet serious read. Albertalli managed to include very serious subjects delivered by a fun and insightful cast of characters.

There is talk of gay bashing, bullying, some racism, but also a bigger than life family dynamic (Yay for parents not being dead/distant/uninvolved!), close sibling relationships, great friendships of all kinds, and such a cute romance!

Simon is being blackmailed because he isn't ready to come out, Martin is a hard character to hate even if he is the one doing the blackmailing. Actually I wanted to hate a few characters here, but I just couldn't. They all worm their way into your heart, plop down and that's it.
See Martin wants access to Abby this apparently gorgeous, smart, cheerleader who is one of Simon's best friends. I wanted to hate Abby, cause everyone just seemed in love with her or something, but she is a great friend to Simon, so I really couldn't.

While all of that is going on Simon is losing the battle of his heart for Blue. He knows Blue is a kid from his Junior class, but that's it and the progression of their romance through emails was heartwarming :)

I'm not saying this was perfect because there were some things I had issues with and I'm usually not a lover of contemporary books, but this was a great addition to the genre.

Another excellent debut for 2015 ;)

It is definitely annoying that straight (and white, for that matter) is the default, and that the only people who have to think about their identity are the ones who don't fit that mold. Straight people really should have to come out, and the more awkward it is, the better. Awkwardness should be a requirement. I guess this is sort of our version of the Homosexual Agenda?
-Blue

The Homosexual Agenda? I don't know. I think it's more like the Homo Sapiens Agenda. That's really the point, right?
-Jacques
Would I Recommend it?