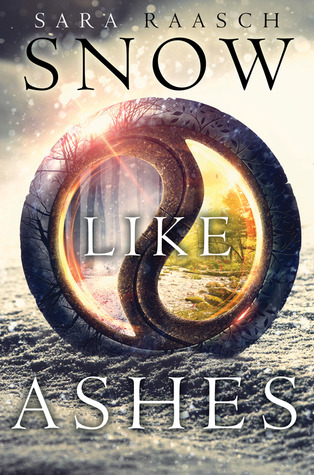 Title:
Snow Like Ashes
Series: Snow Like Ashes Book One
Publication Date: October 14, 2014


A heartbroken girl. A fierce warrior. A hero in the making.

Sixteen years ago the Kingdom of Winter was conquered and its citizens enslaved, leaving them without magic or a monarch. Now, the Winterians' only hope for freedom is the eight survivors who managed to escape, and who have been waiting for the opportunity to steal back Winter's magic and rebuild the kingdom ever since.

Orphaned as an infant during Winter's defeat, Meira has lived her whole life as a refugee, raised by the Winterians' general, Sir. Training to be a warrior—and desperately in love with her best friend, and future king, Mather — she would do anything to help her kingdom rise to power again.

So when scouts discover the location of the ancient locket that can restore Winter's magic, Meira decides to go after it herself. Finally, she's scaling towers, fighting enemy soldiers, and serving her kingdom just as she's always dreamed she would. But the mission doesn't go as planned, and Meira soon finds herself thrust into a world of evil magic and dangerous politics – and ultimately comes to realize that her destiny is not, never has been, her own.
***




A copy was provided through Edelweiss and Balzer + Bray for review consideration


Snow Like Ashes is a hard book to rate. It wasn't bad but it wasn't that good either. It had all the right elements but not enough of them.
Characters. We have Meira our MC, all she wants to do is prove herself to Sir and to Winter, to prove that she matters, that she's needed. She is feisty, she fight back, she is smart, but she isn't smart enough, her fighting back sometimes turns into just being bratty and her feistyness turns annoying at times. I didn't like Mather and sure as hell didn't like Sir, the rest of the characters were all too superficial to really say if I liked them or not, they were just there.
World building. I liked it, but I wouldn't have minded some more from it. It's obvious why the Seasons are called Seasons. They are perpetually in that season, but why are the Rhythms called Rhythms? What makes them
them
? Primoria didn't always have magic, so how was it before then? We get a convulted history of how magic came to be in Primoria, but It's still a bit superficial. I don't understand how the conduits work exactly, how they are tied to the bloodline and the country instead of just anyone getting the item and using it. Basically why are they special if the process of imbuing the item was the same? And what exactly can you do with it? What are their limitations? This was all very vague.
Plot. Saw it coming a mile away. This was actually a really bad thing. Usually predicting what's going to happen isn't neccesarily bad, you just lose a bit of that sense of suspense and surprise. The problem with that here was that, not only did I know what was going to happen by the 10% mark, Raasch kept throwing glaring hints throughout the book and I had to keep gritting my teeth and just waiting till it was finally revealed, and it was frustrating as hell. I know what's going to happen, you don't need to keep throwing not-so-subtle hints in my face and then doing absolutely nothing about it! When it finally came I was just glad they had all caught up with the program so we could get to the juicy part. Which we did, but it was short lived and obvious and I just wanted more.
Another thing was the motivation behind this whole book. The driving force of Angar destroying Winter. I know why Cordell wants in I just don't get why Angar is so ruthless in his take down of Winter. If it was because of the magic, he should have done the same with Autumn, Spring, and Summer, but he didn't. It was always against Winter. Sure now that Autumn is weak he'll go in for the kill. It's an opportunity, it's not what he is doing to Winter. His answer when Meira asks? Winter is standing in the way of his power...Whatever the hell that means. After reading the whole book and still not even getting an understanding behind the driving force of the plot is just not done. Even if I had the wrong one, but at the time it felt right is more than enough, but not left wondering what's the point of the book.
Romance. Yes, there is a love triangle. No, it's not a good one. I don't even know why it's needed. I could have done without and saved myself about 20% of the book dealing with this crap. It was annoying. I did however like Theron, so there is that.
Pacing. It was way off. Starts strong for the first 10% then just drags like hell for another 40% then it picks up again, then drags a bit again for another 10-20% and then we finally get to the good part which only lasted 30%.
I could have done without close to half the book basically. Seriously, this could have been condensed a lot and invested instead a lot more in the last part. Would have made for a far more interesting book. If you are wondering how bad it dragged, I was ready to give up at the 43% mark and while it did get better it just wasn't enough.
Would I Recommend it?