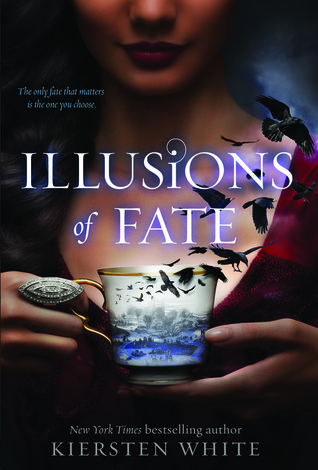 Title:
Illusions of Fate
Series: N/A
Publication Date: September 9, 2014


"I did my best to keep you from crossing paths with this world. And I shall do my best to protect you now that you have."

Jessamin has been an outcast since she moved from her island home of Melei to the dreary country of Albion. Everything changes when she meets Finn, a gorgeous, enigmatic young lord who introduces her to the secret world of Albion's nobility, a world that has everything Jessamin doesn't—power, money, status…and magic. But Finn has secrets of his own, dangerous secrets that the vicious Lord Downpike will do anything to possess. Unless Jessamin, armed only with her wits and her determination, can stop him.
***





A copy was provided through Edelweiss and HarperTeen for review consideration


"I long for the security of the world I lived in yesterday, but it is lost to me forever."
This is definitely Kiersten White's best work so far.

Best way to describe this is as a fluffy fantasy/paranormal. Why fluffy? Cause one of the mayor points in fantasy is world building and we only get the bare minimum of that here. It was enough to get the plot and everything going but it was still lacking some fleshing out.

As for the rest it was quite good! The characters were lovely. We have Jessamine our mc who is headstrong, but still thoughtful, witty, but not to the point of being bitchy. She was great.
Really liked Finn as well and the romance between the two was just lovely :)
He follows my eyes and curses, then slides his hands beneath my legs and back. "What are you doing?"
"Picking you up so we can run!"
"Don't be daft, my hand is broken, not my feet!"
"Right, that was stupid. Stupid."
But hands down the best character was Sir Bird.
"One of the familiars is with you!" He raises his cane, eyes blazing with murder toward Sir Bird.
"Don't you dare!" I hunch my shoulders around Sir Bird, angling him away from Finn.
"We haven't time for this!"
"So keep running!"
...
"That bird belongs to him."
"This bird saved my life."
"I am saving your life!"
"You were ready to give in! I saved my own life. You are simply keeping me company on this leg of my escape." Sir Bird caws brokenly in support of my statement.
Between the great dialogue, the witty banter, and Sir Bird, and the plot kept moving right along and it made for a quick fun read.

Would I Recommend it?
Tweet