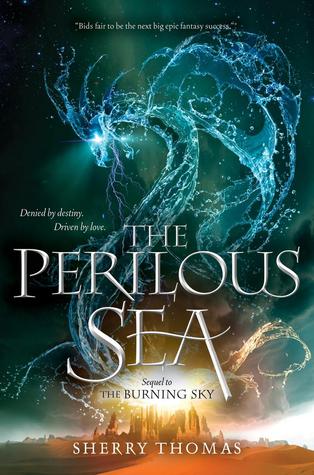 Title:
The Perilous Sea
Series: The Elemental Trilogy Book Two
Publication Date: September 16, 2014


After spending the summer away from each other, Titus and Iolanthe (still disguised as Archer Fairfax) are eager to return to Eton College to resume their training to fight the Bane. Although no longer bound to Titus by a blood oath, Iolanthe is more committed than ever to fulfilling her destiny—especially with the agents of Atlantis quickly closing in.

Soon after arriving at school, though, Titus makes a shocking discovery, one that makes him question everything he previously believed about their mission. Faced with this devastating realization, Iolanthe is forced to come to terms with her new role, while Titus must choose between following his mother's prophecies—and forging a divergent path to an unknowable future.
***




A copy was provided through Edelweiss and Balzer + Bray for review consideration

Finally got around to reading this ARC. I've been meaning to read it but since I've started getting fed up with most YAs I kept putting it off. Yes, I'm getting fed up with the silly, sometimes vapid and unnecessary angsty shit that goes down, but I digress.

I'm glad I picked this one up! I adored the first book, and while I didn't love this one quite as much it was still very good. It did suffer slightly from second book syndrome, but it was very passable. The plot overall didn't really progress all that much, that's not to say that nothing happened in the book, because it did. There was still fighting, magical fighting, calling down lightning and all kinds of goodys. In small doses but still there.

The Perilous Sea centers more on all the small details and puzzle pieces that were missing in the previous book. It answers basically all the questions that were raised in The Burning Sky. Therefore the rest of the book was mostly Titus, Iolanthe and the gang pulling all the isolated pieces of information that they had, following those threads and finally emerging with the complete picture and holy hell I did NOT see that picture at all. This almost never happens. I can usually follow where the plot is going fairly easy, but the revelations kept coming in this one and I just couldn't keep up. I was being bombarded from all sides till I just gave up trying to piece things myself and took it as it came. Which was great actually.

I was a bit disappointed with Titus for a good portion of the book as well. I adored him in the last one. He is so capable and always on top of things and then,
fairly early in the book,
he looses himself. He looses that confidence that made him assertive and able to command people and take charge of his actions, and well, it pissed me off! Because the reason behind this hiccup was just so stupid (in my mind anyway) I just couldn't understand why he couldn't just say fuck it and do his own thing. This truth that was revealed to him broke him for a good chunk of the book and I was just so sad/pissed, but he totally made up for it with his little speech at the end :)
"The Master of the Domain will consider delivering a cubic mile of elephant excrement into the care of Atlantis, but nothing else. And he extends his warmest greetings to the Lord High Commander. Soon may the Lord High Commander depart for the Void, where he is long overdue."
With the way things ended here I CAN'T WAIT for next book! :D

The war against Atlantis had begun at last.
Woul
d I Recommend it?
Tweet