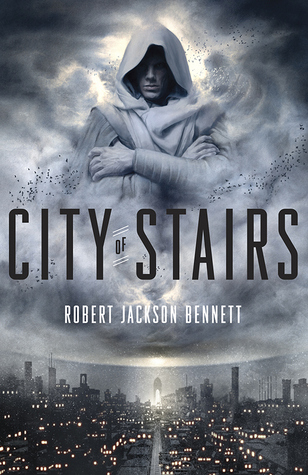 Title:
City of Stairs
Series: N/A
Publication Date: September 9, 2014



A densely atmospheric and intrigue-filled fantasy novel of living spies, dead gods, buried histories, and a mysterious, ever-changing city-from one of America's most acclaimed young SF writers.

Years ago, the city of Bulikov wielded the powers of the Gods to conquer the world. But after its divine protectors were mysteriously killed, the conqueror has become the conquered; the city's proud history has been erased and censored, progress has left it behind, and it is just another colonial outpost of the world's new geopolitical power. Into this musty, backward city steps Shara Divani. Officially, the quiet mousy woman is just another lowly diplomat sent by Bulikov's oppressors. Unofficially, Shara is one of her country's most accomplished spymasters-dispatched to investigate the brutal murder of a seemingly harmless historian. As Shara pursues the mystery through the ever-shifting physical and political geography of the city, she begins to suspect that the beings who once protected Bulikov may not be as dead as they seem-and that her own abilities might be touched by the divine as well.
***




A copy was provided through Edelweiss and Random House Crown for review consideration


And they said to Her: "You blessed us as Your people, and we rejoiced, and were happy. But we found those who were not Your people, and they would not become Your people, and they were willful and ignorant of You. They would not open their ears to Your songs, or lay Your words upon their tongues. So we dashed them upon the rocks and threw down their houses and shed their blood and scattered them to the winds, and we were right to do so. For we are Your people. We carry Your blessings. We are Yours, and so we are right. Is this not what You said?"
And Olvos was silent.

Pacing (2.5/5): First half of City of stars was more like 2 stars. It was so damn slow, and the writing style was hard to get into. The second half was much better. Once things finally picked up at around the 60% mark it didn't let up till the end.

Writing Style (2.5/5): As I mentioned before the writing style was hard to get into, at least for me. It made it hard to connect to the characters and get immersed in the story. It wasn't impossible or anything but it was unnecessarily hard.

"Who is … Sigrud?" asks Vohannes.




There is a horrific scream from nearby, and a burst of breaking glass. Then silence.




"That is Sigrud," says Shara.
Characters (3.5/5): I ADORED Sigrud. He was the tall, mysterious, deadly, totally socially-oblivious guy. He basically did all the dirty work Shara. The relationship between Shara and Sigrud was lovely. It was a great solid friendship, not a maybe they'll become a thing later. Just a nice old-fashioned friendship.
"How do you expect me to do that? Am I to don all black and infiltrate this place in the middle of the night? I would have thought you'd have people for this."




"I expected you'd come up with an easier way than that. Primarily because you own the bank."




Vohannes blinks. "I … I do?"




"Yes." Shara hands him a copy of Pangyui's decoded message.




He examines it. "Are you sure I own it? Its name doesn't ring a bell. …"




"It must be so nice," says Shara, "to be so wealthy one is uncertain of which institutions one does and does not own..."
Vohannes was another character I really liked and his story and relationship with Shara broke my heart.


"You … You really think you can? Do you really think you aren't being, like"—Mulaghesh laughs—"well, wildly fucking naïve about this?"

And then there is Mulaghesh! She was awesome. She didn't beat around the bush. Her personality was refreshing.

Plot (3.5/5): Once things started going, it was hard to put down and the clues just kept piling one on top the other till it was the final showdown and then BAM! It was finished :( While it wasn't anything amazing, it was very well thought out and planned out so you are always just a few pages ahead of most of the revelations.

World-building (3.5/5): The world-building while being excellent was also lacking at some points? Or maybe it was just me wanting to know MORE, because it was so damn interesting. I really would have liked to know where the Divinities came from and WHY the Saypuri didn't have any? While this turned out to be a good thing in the long run it would have been nice to have an explanation of some kind.

All in all a solid fantasy that's worth a read :)


"The Divine may have created many hells," he says, "but I think they pale beside what men create for themselves."
Would I Recommend it?
Tweet