This is a meme hosted every Friday by
Parajunkee
and
Alison Can Read
, where book bloggers answer a question each week and check out how others answered it. It's a cool way for bloggers and viewers to connect and learn more about each other!
Follow by Email, RSS or Bloglovin' is preferred :)
Q: Feature Your Own Favorite Blogger!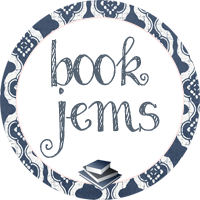 This is a hard one since I follow quite a few blogs and like each one for specific things. But if I had to pick one then it would be Jenn & Emily over at Book Jems. I really value honest reviews and these girls definitely deliver on that. Whenever I'm on the fence about a book I can almost always count on their reviews to enlighten me enough to finally decide on giving that particular book a shot or not, and our tastes run on very similar circles so I put a good amount of weight on their opinion. It's always fun finding both people who have really similar tastes as you and those who are the complete opposite. Plus their reviews never fail to entertain me xD
What is/are your favorite Blogger?
Tweet