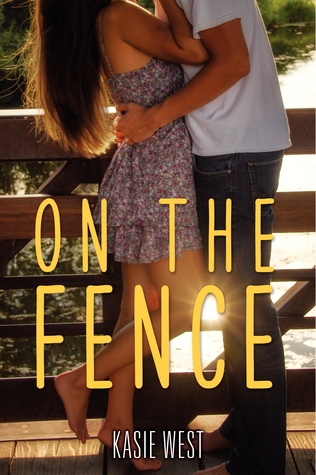 Title:
On The Fence
Series: N/A
Author:
Kasie West
Genre:
YA Contemporary, Chick-Lit
Publication Date: July 1, 2014


She's a tomboy. He's the boy next door…

Charlie Reynolds can outrun, outscore, and outwit every boy she knows. But when it comes to being a girl, Charlie doesn't know the first thing about anything. So when she starts working at a chichi boutique to pay off a speeding ticket, she finds herself in a strange new world. To cope with the stress of her new reality, Charlie takes to spending nights chatting with her neighbor Braden through the fence between their yards. As she grows to depend on their nightly Fence Chats, she realizes she's got a bigger problem than speeding tickets-she's falling for Braden. She knows what it means to go for the win, but if spilling her secret means losing him for good, the stakes just got too high.

Fun, original, and endearing, On the Fence is a romantic comedy about finding yourself and finding love where you least expect.
***





A copy was provided through Edelweiss and HaperTeen for review consideration

It was nice. I liked the last 25% the best. Charlie annoyed me too much the rest of the time.

I never have high expectations for fluffy romance. All I need to finish with the warm and fuzzies and I barely got it here.

My main issue was Charlie. I didn't like her. At all. She kept saying she was open minded and didn't judge people and what not, but that was ALL she did through out the book. Judge people. Specifically the girls. She had this mind set of being an elitist because she didn't wear make-up and frilly clothes, and didn't know how to apply make-up and the like.

Once she gave them a chance, she was all surprised that they were actually nice, fun girls to hang around with, but then she would get home and be all ashamed that she was finally embracing her femininity and just had to hide from her brothers and father. Dude, GET OVER YOURSELF.

Her sob story did not endear me to her, it was too obvious and idk contrived, I guess.

Everything else about the book was just cliche after cliche. It isn't always bad, I can deal with cliches specially in these novels and I didn't mind these, I liked them, the brothers, her father, and the romance. But they lacked that Wow factor too.

The end was one big HEA as it should be. This was also around the time Charlie finally got a clue which is why I liked it the most out of the whole book. It was an okay book. With that said I have official given up with this author.
Would I Recommend it?
Tweet