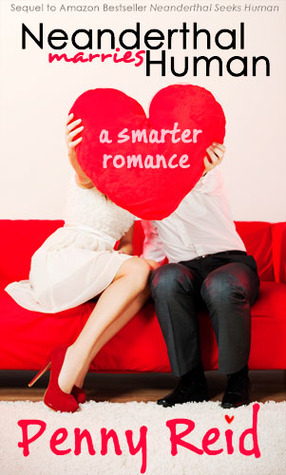 Title:
Neanderthal Marries Human
Series: Knitting in the City Book One and a Half
Publication Date: June 14, 2014


There are three things you should know about Quinn Sullivan: 1) He is madly in love with Janie Morris, 2) He's not above playing dirty to get what (or who) he wants, and 3) He doesn't know how to knit.

After just five months of dating Janie, Quinn—former Wendell and unapologetic autocrat—is ready to propose marriage. In fact, he's more than ready. If it were up to Quinn, he would efficiently propose, marry, and beget Janie with child all in the same day—thereby avoiding the drama and angst that accompanies the four stages of pre-matrimony: engagement, meeting the parents, bachelor/bachelorette party, and overblown, superfluous wedding day traditions. But Janie, much to Quinn's dismay, tosses a wrench in his efficacious endeavors and challenges him to prove his devotion by going through the matrimonial motions, no matter how minute and mundane.

Will Quinn last until the wedding day? Or will he yield to his tyrant impulses?

Regardless, one thing is for certain, Quinn Sullivan will have to learn to expect the Spanish Inquisition (i.e. the unexpected) if he plans to have and keep Janie Morris as his wife.
***


I loved this! Specially that last chapter with the missing scene from Vegas *sigh*. So beautiful! And the whole wedding scene and the speeches *sniffs*. Lovely.

There were a few grammatical errors but who cares! I had a goofy grin on my face through out the whole book, with the occasional laugh bursting out. I really liked seeing things from Quinn's point of view.

Even though I'm not a fan of the whole possessive thing, it was great getting in his head and finding out how he process things. It made him much more real and human than in the first book, Neanderthal Seeks Human. It gave him a warmth and depth that had been lacking. We also got to see him interact with Dan and Nico and show a different side of himself. Loved the scene when they first meet Nico. So adorable! xD

Loved getting back to the ladies and that trip to Vegas, so reminiscent of The Hangover was excellent Lol. The love and support these ladies have for each other is heartwarming. I was also very intrigued with Shelly, Quinn's sister, and I'm hoping that Reid will consider writing her story as well.

This book gave me the warm and fuzzies and that's exactly what I've come to expect from Reid's books. So kudos to Reid for another great book!
Would I Recommend it?
Tweet