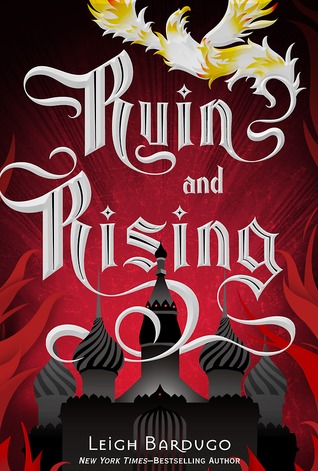 Title:
Ruin and Rising
Series: The Grisha Book Three
Publication Date: June 17, 2014


The capital has fallen. The Darkling rules Ravka from his shadow throne.

Now the nation's fate rests with a broken Sun Summoner, a disgraced tracker, and the shattered remnants of a once-great magical army.

Deep in an ancient network of tunnels and caverns, a weakened Alina must submit to the dubious protection of the Apparat and the zealots who worship her as a Saint. Yet her plans lie elsewhere, with the hunt for the elusive firebird and the hope that an outlaw prince still survives.

Alina will have to forge new alliances and put aside old rivalries as she and Mal race to find the last of Morozova's amplifiers. But as she begins to unravel the Darkling's secrets, she reveals a past that will forever alter her understanding of the bond they share and the power she wields. The firebird is the one thing that stands between Ravka and destruction—and claiming it could cost Alina the very future she's fighting for.
***


The power inside me had once seemed so miraculous, but each confrontation with the Darkling drove home the limitations of my abilities.
This is what I had been expecting after so many friends/bloggers have raved about this trilogy. The first book was nice enough, I could see the allure. The second book was utter crap. Ruin and Rising managed to redeem the whole trilogy.

I would have been fine if the second book had ended with both Alina and the Darkling dying, fitting ending at that point in my opinion.

But it didn't.

We got Ruin and Rising instead, and I have to admit I found myself fully invested in this one. There were still silly things that should have been obvious plus I'm not entirely satisfied nor sure with what happened at the end with the amplifiers, but it was definitely an engaging and solid ending (I mean whole book wise, cause the jury is still out on those amplifiers) to the trilogy.

"Alina—"




"We are not talking about this."




"You can't just pull the covers over your head and pretend this isn't happening."




"Can and will."




"You're being a brat."
The biggest change in this book? Alina wasn't in charge and man, what a change that was. Mal and Nikolai (mainly Mal) were the ones calling the shots here and I am so grateful. One the one hand I'm disgusted that Alina couldn't think to save herself (or anyone else for that matter). She had to follow a man around to do anything worthwhile, but whatever. I'm used to YA female mcs being useless without the guy. So moving on!

The world building and writing really shined through in this one. I was completely immersed in the story and it was near impossible to put down.

"Maybe you're hungry," said Zoya. "I always get mean when I'm hungry."




"Are you hungry all the time?" asked Harshaw.




"You haven't seen me mean. When you do, you'll require a very big hanky."




He snorted. "To dry my tears?"




"To stanch the bleeding."
The characters in this one! So much growth! Ahh. They all grew so much here. But the ones that really come to mind are Mal, David, Zoya, Genya and Harshaw. They all became this really tight group. Zoya was always complaining and bitching but in a loving way. Genya surpassed her ordeals and shined through. David! Timid, nerdy David! So cute!! And Mal. He was okay in Shadow & Bone and he was a complete ass in Siege and Storm, but he finally started getting his act together here. He finally put his priorities straight. Saving the country first, then getting the girl. A whole nation is more important than his petty jealousy. And that made all the difference. He grew into a wonderful young man. Totally badass :)

"Once more," he said. "Speak my name once more."
The Darkling. This is a character that you really can't help but love. He has lived so long, and has had a very interesting upbringing to say the least. He always had good intentions, but he was ruthless, and yet at the same time, so very human. He broke my heart multiple times. And that ending! I actually almost cried. Had misty eyes and everything xD

Let's talk about the plot...View Spoiler! It had it's holes, but overall, it was quite good.

So if you were discouraged from this series because of the second book, you should give this one a chance. I doubt you'll regret it :)
Would I Recommend it?
Tweet