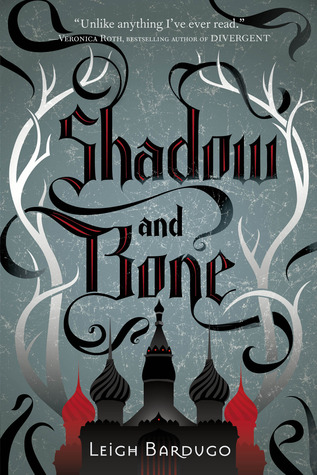 Title:
Shadow & Bone
Series: The Grisha Book One
Publication Date: May 17, 2012


The Shadow Fold, a swathe of impenetrable darkness, crawling with monsters that feast on human flesh, is slowly destroying the once-great nation of Ravka.

Alina, a pale, lonely orphan, discovers a unique power that thrusts her into the lavish world of the kingdom's magical elite—the Grisha. Could she be the key to unravelling the dark fabric of the Shadow Fold and setting Ravka free?

The Darkling, a creature of seductive charm and terrifying power, leader of the Grisha. If Alina is to fulfill her destiny, she must discover how to unlock her gift and face up to her dangerous attraction to him.

But what of Mal, Alina's childhood best friend? As Alina contemplates her dazzling new future, why can't she ever quite forget him?

Glorious. Epic. Irresistible. Romance.
***


Don't get the hype.

Writing (4.5/5) - One thing that was perfectly clear after reading Shadow & Bones is that Bardugo can write, and write very well. As much as I as I didn't agree with some things, it was still a very engaging and vivid storytelling.

World-Building (4/5) - I love the idea of Grisha and how they are divided into their own groups, their kefta designations, their training. I did find the names a bit silly though. Also, I'd like to know what exactly is going on with this whole war/seige thing is going on between all the countries/regions. Why all the fighting? I get the Shadow Fold is in the way of their ports, but it's not like they are only fighting there. They are fighting in like all their borders against all the neighboring regions. There wasn't any background on this at all, and I would have just liked a bit more clarification.

Characters - (3.5/5) - They were okay? I liked The Darkling and his conflicting ideas/feelings. I keep going back and forth with Alina and Mal though. Sometimes I like them, sometimes they get annoying, sometimes I want to slap them, so yeah.

Plot (1.5/5) - Why so low? I don't get the big huzzah about Alina's power and her being the salvation. She can keep the volcra at bay ONLY when she is around, so not very useful as a permanent solution. Can she break the whole Shadow Fold or at least parts of it? No, she can't, so again, not useful. Not even when she got the antlers. I'm pretty sure she has more powers beside the Cut and the summoning of sunlight. Maybe illusions. But these are all passive skills. I just don't see how she is anyone's salvation. Yes, she has gotten in the way of the Darkling's master plan of taking over the world *rolls eyes* but that's it. It's a set back. She can't actually stop him with her powers, she needs to come up with allies, a resistance group and an actual plan. And I've got my theories about Mal and his 'skills'. My point is, there is so much importance put on Alina and her powers and I just don't get what's so great.

As much as I like the writing and the world building, I'm more of a character girl, and I wasn't impressed by them, plus to me the plot sucked, so yeah, don't understand the amazingness of this book. It was interesting and enjoyable enough. I'll be finishing the whole trilogy unless the second book seriously pisses me off xD
Would I Recommend it?
Tweet